Premium Cockapoo Puppies
for Sale in Toronto and Throughout Ontario
Premium Cockapoo Puppies for Sale in Toronto and Throughout Ontario
Welcome to the home of loving, playful, and premium Cockapoo puppies in Ontario. Our specialty lies in providing families with adorable, well-socialized Cockapoo puppies for sale that residents in Toronto and across Ontario have come to love and trust. Known for their affectionate nature and intelligence, Cockapoos are a crossbreed that bring the best of both worlds—the loyalty of a Cocker Spaniel and the hypoallergenic properties of a Poodle. Whether you're in Toronto or anywhere else in Ontario, we invite you to experience the joy that comes from adopting one of our little bundles of happiness.
Your Trusted Source for Cockapoos for Sale in Ontario
At Cockapoo Puppies Canada, our dedication goes beyond simply offering Cockapoo puppies for sale. We are deeply committed to responsible breeding practices that prioritize the health and well-being of every puppy born under our care. Our Cockapoo puppies are raised in Ontario in a clean, loving environment and are socialized from a young age to ensure they make perfect family pets.
Every puppy goes through a thorough health screening and receives all up to date vaccinations before joining their forever home. Our Cockapoo breeders in Ontario have years of experience in producing Cockapoo puppies that not only meet but exceed your expectations. Our meticulous approach ensures that each puppy is a perfect match for families seeking Cockapoo puppies for sale across Canada.
What sets us apart is our focus on customer satisfaction and post-adoption support. When you adopt from us, you're not just buying a puppy; you're joining the Cockapoo Puppies Canada family. We offer lifetime support, including training advice and healthcare guidance, to ensure that your Cockapoo grows up to be a healthy, well-adjusted member of your family.
So why settle for less? Come discover why Cockapoo Puppies Canada is your trusted source for premium Cockapoo puppies in Ontario.
Tails From Our New Pet Parents
Marx is a great little service dog. Thank you, he's my bestest friend and service dog ever! So cute, so smart and so friendly. He loves to hug people and other dogs. Thank you!!
Dinah
From Mississauga, ON
Thank you, he is a beautiful little guy.
Parson's Family
Here is Sunny, he is growing up so fast! Thank you!!
Olga
Bailey is absolutely perfect!! She's so smart, so cuddly and so playful. Just wanted to say thank you!
Sonia
Jeff & I want to say thank you. We had been looking for a puppy for months before finding Stella. The moment I saw her picture, I fell in love. Stella brings fun & laughter to us and all that meet her.
Sharon & Jeff
We named him Wendel and he is a gem – literally the sweetest, cutest, most patient and well trained pup around! Thank you!
Kristy & Brendhan
We just wanted to let you know that Max is a joy, the happiest, most confident, friendly puppy we have ever known. He is very loved. His younger sister, Molly, is doing great too. She is very different from him but wonderful and well loved
Rachel
Just so you know, we are very happy with him and he's doing very well. Thanks for the great dog.
Steve
Thanks again, we are very happy with Jasper.
Jerrod
From Ingersoll, ON
Thank you so much. Here is Austin. He is awesome, beautiful and so sweet. We love him so much.
Fariba
Morning! Thank you again! Things are going well. He's been a champ. No accidents. Pees right away when he goes out and did a leash walk last night like a trooper which we were surprised by.
Hilary
I just wanted to tell you that we are all in LOVE with our new "addition". We have decided to name her 'Sadie'. Thank you once again for everything. It was an easy and perfect experience for us.
Teresa
Sugo is 4 months old and just had his first groom! Just wanted to share a photo and say thank you again!
Diana
From Mississauga, ON
Just an update and a thank you note as me and my girls are truly enjoying our puppy.. he just couldn't be any sweeter and a good boy. His name is Simba.
Pablo
From Oakville, ON
This is Mocha. We picked her up two years ago. She is lovely. Thank you.
Shirin
from Richmond Hill, ON
I would just like to reach out to say thank You. ha puppy is beautiful and fits beautifully into our home. Her name is Ava
Warren & Janice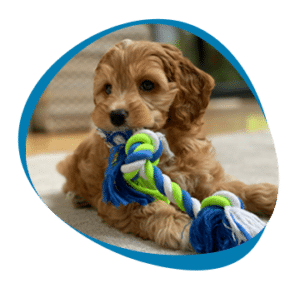 We love our new puppy. Everything is going well. We named him Cooper
ER
from Montreal, QC
Thank you so much , she is doing well. I will keep in touch
Rosi
from Burlington, ON